There are three different types that I know of and I will show all of them but the main one I want to focus on is the LT line from laserlyte. I had talked about how I like to train what I am not at the range before and the LT-PRO was the one I used. I normally don't bad mouth a product but I have to tell you what I went through is crap but the CO honored their product. The first one was a laserlyte LT-PRO and this type is adjustable as it fits 9MM/.40 cal/.45 auto, so one laser fits a multitude of guns and that sound like the best bang for the buck (87.00)
Here is what I call draw backs; first off there is no on or off switch so you have to take it apart to shut it off or it eats batteries like there is no tomorrow, to the point where I was buying them by the 100 pack. Second they run on sound so when you pull the trigger the snapping of the firing pin sets off the laser so you had to have a snap cap in the gun also. The first one stripped out due to taking it apart over and over. Back to the CO. the new one they sent me failed after less than a month; back to the CO again and then the third after two weeks it stayed on all the time like it was a pointer.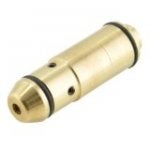 Finally after three of them I asked if they could trade off/up to a LT-40 (brass 40 Cal) laser trainer and they said no problem so now I have had this one for three weeks and probably a 1000 dry fires or better and works like a champ and with the same batteries. These are one size fit; 9mm or .40 or .45.
The plus side of these is that they ARE the laser/snap cap at the same time and fit like a bullet so there are no way you can accidentally load a live round
Eventual the cap on the rear will wear out BUT the CO offers a new cap for 10.00 (how cool is that) and they come with a 3 year warranty. The CO has excellent warranty service at no time did they ever question me but said they would send an PP envelope for the return after the second one.
The third one ( I know nothing of but what I read) is a sure strike laser trainer. They seem to be more complicated but fit a multitude of guns. From what I hear a lot of times the firing pin doesn't make contact with the laser that fits inside of different covers and you add rings for different chambering so be careful with this one and at a 199.00 I would be standoffish from the reviews
Christmas is right around the corner so it might be a good hint for your list. I train with mine every time I am home just to develop the muscle memory of drawing and shooting. Besides it's a great way to play with the gun when I am having a couple with the guys (no way it can be loaded with a live round because of the laser). And for 89.00 (amazon.com- free shipping and no tax) it just might be the best thing under the tree